Master your career
Be Bold and Create Your Future
Perks & Benefits
With Master projects
come Master benefits
Mentoring Program
Our High-Impact, 1on1 Mentoring Program is structured, effective and really makes us GROW.
6K PLN/year & 8h/month for personal growth
Udacity, Bottega or maybe a Cloud Guru? Choose your own learning path and don't worry about the money.
Clear Career Paths
Our Career Paths cover hard and soft skills and will help you grow and develop.
JavaScript talks (TechTalks)
We master our skills during internal TechTalks and Hackathons.
Health & Sports budget 1500PLN / quarter
Massage, yoga or maybe dance classes? How you spend your budget is up to you!
Value-driven Team of 100+ great people
Our core values, mutual trust and respect shape the way we work on a daily basis.
Work Onsite or Hybrid-Remote
We accept a Hybrid-Remote model but being in the office always works best!
100% American Clients and vibes
We work with Silicon Valley's top Founders and CEOs. We take our projects seriously... but not ourselves ;-)
100% Polish working hours
Don't worry - working with American clients does NOT mean working late at night.
Top-notch hardware
High-end MacBook Pro and every book you ever wanted on Amazon at your fingertips!
Real offices & Cool people
We have cozy offices in Wrocław, Szczecin, and Kielce, where we work together and enjoy each other's company.
Flexibility & Healthy workload
You decide how you organize your work and trust us - no overtime is needed.
English lessons with Native American
We constantly improve language skills with our awesome American teacher Mathew.
Agile & Startup Mindset
We embrace the Agile approach and say yikes(!) to corporate stiffness.
Goodies in the kitchen
Dark chocolate, walnuts, fruit or maybe popcorn and Oreos? Pick your favs and take a bite!
Hiring process
01
Step 1
Phone Screening
5-minutes organizational call
02
Step 2
Soft-skills interview with HR team
We will talk about MasterBorn, our Team, your experience and history :)
03
Step 3
Recruitment task (optional)
Complete a task so you can see a part of our work
04
Step 4
Technical interview with Senior Specialist
A technical conversation to get to know your skills better and learn about the scope of duties
05
Step 5
Feedback and quick decision
Decision and our feedback
Find out what the first day at MasterBorn is like
Enter your email address below and get a sneak peek into the first day with us.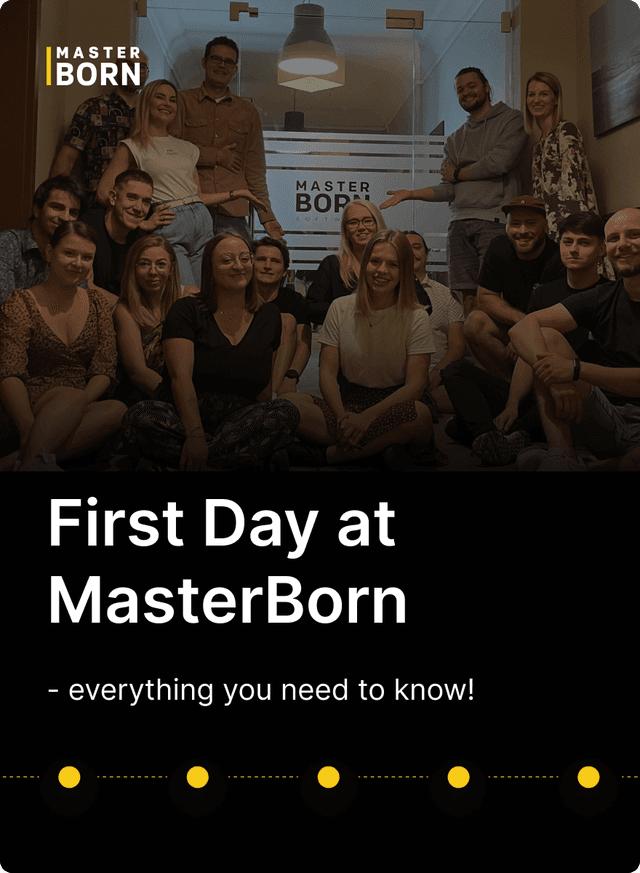 Meet our Master Team
World-class JavaScript developers,
great specialists, but first of all — cool people!
Watch our Showreel
30 seconds
Employee Satisfaction Survey 2022
91%* of MasterBorn employees think they are able to bring up problems and tough issues in their team.
91%* of MasterBorn employees think there is a culture of teamwork and cooperation within the organization.
*Yup, we got exactly 91% in both.
Master your career
Master your life
Master